Life was hectic growing up on the farm. I can recall three words…chores, chores and chores. But on the odd occasion when we had completed our chores and new ones were not on the horizon, our parents said the magic words "Let's go for a drive!" We would hop in our old blue GMC pick-up truck and head out on the open road in Lambton County, chores behind us and adventures in front of us.
Now, we never went too far, but these unexpected and infrequent road trips were cherished opportunities to appreciate the landscape around us. Typically Dad just wanted to "see how the crops are doing" so he drove slowly, one arm out the window ready to wave at neighbours while "crop-gawking." (This is a real word, trust me!) I think I got my love for the open road and for "going for a drive" from my folks.
In the early days of COVID-19, I did not stray far from my apartment. As restrictions started to lift and the big city of Toronto started to crowd in, the desire to just get in my car and "escape to the country" grew. In fact, my favourite "stay at home" guilty pleasure was watching the real Escape to the Country, a lovely UK show that follows lucky London-dwellers as they pick up sticks and move to the bucolic, wondrous UK countryside. Wales, Oxfordshire and Cornwall episodes are my particular favourites!
Now, this has become my summer of "Escape to the Country", with weekend road trips planned out carefully using my Backroads of Ontario map book, and my most recent copy of The Curious Day-tripper. You see, exploring close to home is a simple pleasure that I think we had forgotten until COVID-19 forced us to reconsider what a vacation is. This is THE summer to be a tourist in your own province! Here in Ontario we are blessed with beautiful, constantly-changing landscape, quaint and peaceful small towns, and miles and miles of open roads to discover. Here is a collection of what I pack when I head out the door…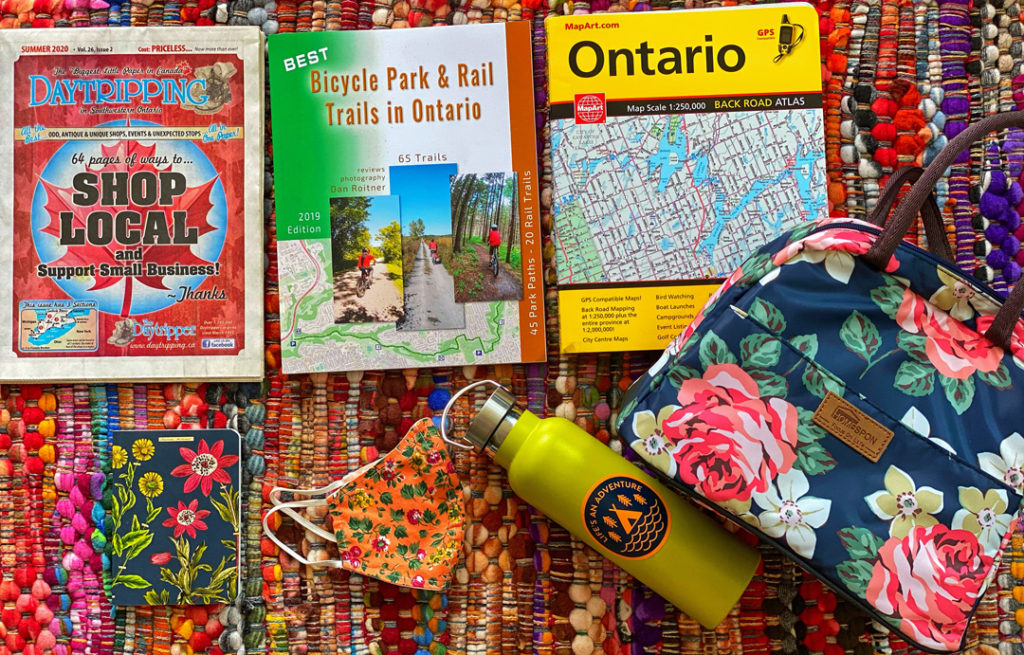 You can see reference materials like maps, but also a wee notebook for roadside notations, a mask (#wearyourmaskdammit), lots of water, and a small insulated bag I fill with ice packs just in case I find a roadside stand with farm-fresh fruit or vegetables.
Over the coming weeks I will share with you the places I have visited, giving a sense of the local flavour, great places to eat on a patio, and a map so you can follow my path if you feel the need for a day trip. I've visited great spots in Southern and Central Ontario so most should be reachable in a day, or make a great weekend get-away. And, of course, I've taken lots of snaps!
Here's a preview of some of the places I will share with you. You will see that I should have a bumper sticker that says "I stop for old churches (and especially converted churches), ancient pick-up trucks, farmer's markets, great architecture, barns and barn quilts, book shops and little free libraries, and waterfalls." That would make a VERY long bumper sticker!
Lots and lots of red doors in charming Elora, Ontario!
Fabulous converted churches in Elora, Garden Hill, Laurel, Hillier, and Bala, Ontario. I would LOVE to live in an old converted church or school house someday!
Old trucks! These are often used as road-side signs. And I love them! These two I found in Apsley and Rosseau.
The folks at Twice Loved Books in Elora and The Village Bookshop in Bayfield are fantastic. They make great book recommendations and will help you pre-order books for curb-side pick-up. And then there's the Little Free Library in charming and aptly-named Welcome, Ontario. Extra points as it is next to an old church! Which I also found in tiny Irondale, but even more points as the library was next to a church AND a barn!
Speaking of barns…have you heard about barn quilts? I bet you have seen at least one in your travels. Barn quilts are a great way to tell a story about your area or farm, and they are fun to find. If you live in Ontario, you can find local trails here. And here are a few I have found in Prince Edward County, Huron County, and Kawartha Lakes.
Did I also mention I love "chasing waterfalls?" For some reason waterfalls seem like magic to me and if you look carefully, you can find them all over Ontario! Especially if a river runs through a town, or if the word "mill" is in the title. I found the lovely ones below in Eden Mills, Elora, Paris, Bracebridge and Fenelon Falls. I achieved the milky affect using the long exposure feature on my iPhone. And yes, all of the photos here have been taken on my trusty iPhone 11. It's a really great camera for a phone!
I can't wait to take you on my "let's go for a drive" adventures in the coming weeks! I will leave you with two recent "wow" roadside moments for me – a field of sunny sunflowers and a lavender field dotted with unexpected Muskoka chairs! I cannot recommend enough the benefits of taking a drive through gorgeous Ontario or your own province when the walls start closing in on you during these challenging pandemic times. You will be glad you did!